Production
Never face material shortage during production
Manufacturing industry faces major production loss due to unavailability of raw material during production. Empower production module efficiently, quickly gives report which material available & which material need to purchase for production plan
No missing material - Complete tracking
You can manage multiple store inventory in empower. Every material issue has record and against work order. So you can identify why, when & to whom material is issue.
It require just no time
It performs entire material planning in almost no time. It gives report quickly
Production
Benefits of Empower Production software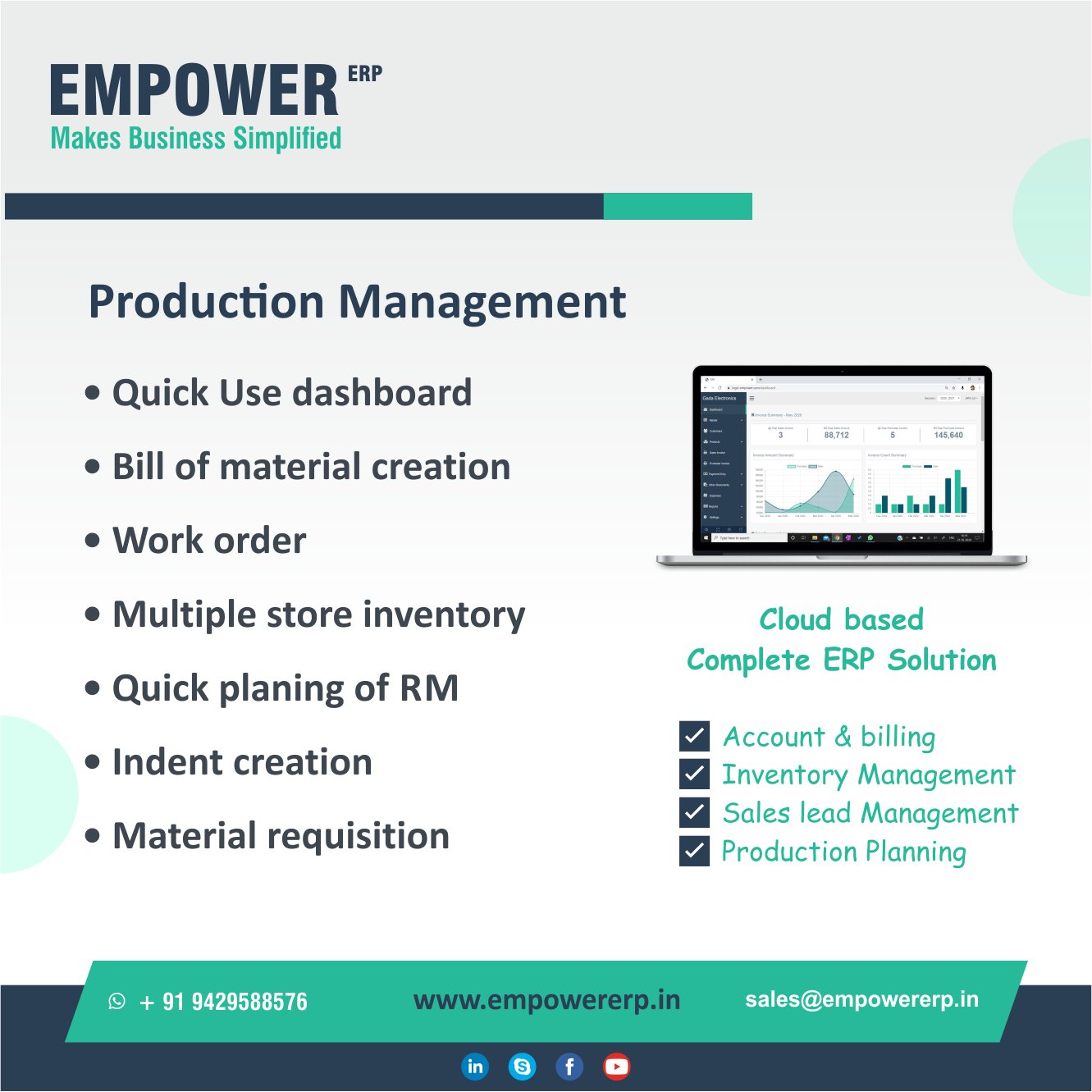 Functions of Production Module
What you can do in Production Module?
✅ Create Bill of Material
✅ Create Department
✅ Create Work Orders
✅ Create Indents
✅ Create Material Issue Note
✅ Create Stock Journal
✅ Production Raw Material Planning
✅ Create Multiple Store
✅ Stock Transfer
✅ Manage indent stage
Start Free Trial
Benefits
Benefits of Empower ERP GST billing software
PRICING TABLE COMBINE MODULE
Life Time Validity Plan

Production Module
How production management software works?
1
Step 1
Create Bill of Material
You can create bill of material for every product, sub assembly & assembly. So it can be knows which items and how much quantity are used to make mater item
2
It is necessary that every item issue to department has some reason like against production plan, service, repairing, replacement etc. To keep track on where material is going you need to create work order against which you can receive material from your store.
3
You can create indent for required material against work order. So if the stock is available your store can issue material against work order or it can be sent to purchase department.
4
After creating work order, you can plan & identify which material is available and which material need to purchase to produce required quantity production
You can identify available quantity in your department, in your store, in master store and for available quantity you can generate material issue note in one click.
For rest of items which are not available in the entire company, you can generate indent on one click and send it to purchase department. And later you can monitor stage of your indent and get idea when you are going to get the material. So accordingly you can plan your production.
That way you can never run out of material during your production going on. Reduce time loss & keep your commitments to your client
5
Step 5
Create Stock Journal
You can generate stock journal to consume your raw material stock & generate stock of your finish goods
Frequently Asked Questions
Empower ERP is best production management software. Because it is cloud based and multi user so no need of buying own server.
Production management software require to reduce material loss, production loss, and improve production and efficiency.
Empower ERP gives you quick report of available material and material to be purchase in few clicks for your production planning.
Empower ERP is best ERP software for manufacturing company as it is having account, CRM & production module at very affordable rates.
ERP software improves your productivity, reduce down time, improve efficiency and saves lots of your time.
Empower ERP is suitable to manage multiple store inventory. you can create multiple store of your multiple department and manage inventory.
Empower ERP is best software for production planning. Give you quick report of Raw material which is available and other material which require to be purchase for your upcoming production planning.
you can create stock journal to consume stock of raw material and to create stock of finish goods.
you can create material issue note for each job work material issue.
Empower ERP is best production management software for small business that can manage inventory, account, CRM and production raw material