Account
It is not just an account, it saves lots of your time
Empower offers Accounting in easy language that everyone can understand easily without any training. It offers maximum usability of your database. And saves lots of your time in many ways. Our
free accounting software for a small business
offers unmatched functionalities and ease of use.
Multi User
All Paid plan comes with multi user option. You can create your staff accounts and give them permission of limited access. Like your store keeper can only see the stocks nothing else.
Cloud Platform
It offers to access your business on the go. You can access entire software from any where in the world & from any device.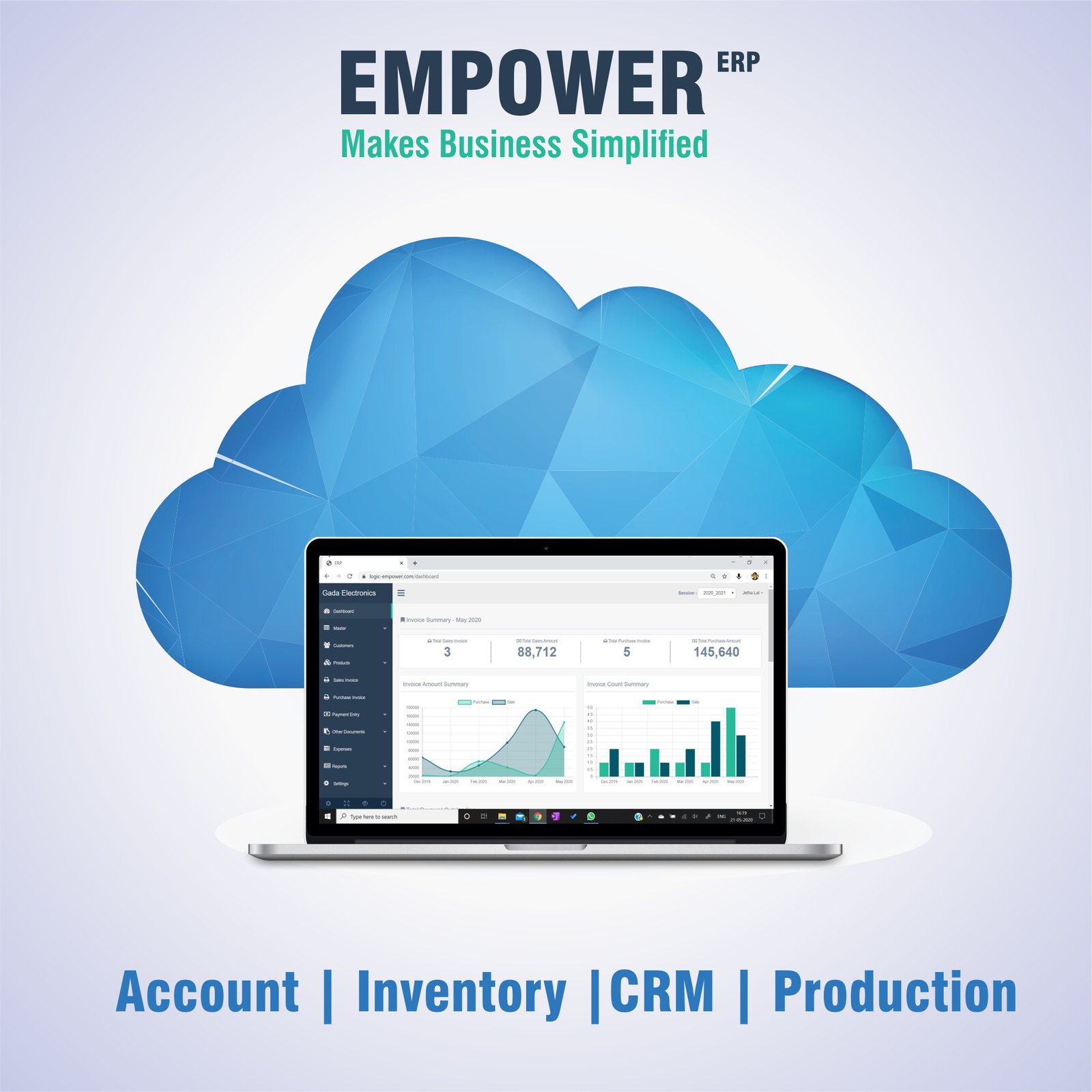 Functions of Account & Inventory Module
What you can do in account module?
✅ Unique Dashboard
✅ Create Items, Item category, Item group
✅ Create customer & vendor
✅ Create customer category & group to filter them as required
✅ Sales invoice, purchase invoice
✅ Payment & Receipt entries
✅ Credit Note & Debit note entries
✅ Create proforma invoice & quotation
✅ Create Delivery challan & Purchase order
✅ Stock journal entry
✅ Create expense entry & expense category
✅ GST Return summery of GSTR1, GSTR2B, GSTR3B
✅ Export & Import database
✅ Sales report, purchase report, company ledger, outstanding report etc.
Start Free Trial
Benefits
Benefits of Empower ERP GST billing software
Frequently Asked Questions
Empower ERP is the best software to create GST invoice. You can create tax invoice easily without any training & course. Create your account in Empower ERP > complete basic settings > create product > create customer > and then you can create invoice
Empower ERP gives you quick and ready GSTR2B sheet with one click for selected period.
Yes any one who is using Empower ERP software can file gst returns very easily. Empower ERP provides quick and ready to use excel sheet to file returns by self without any mistake.
You can create multiple store in master. and then you can easily manage stock of each store. You can select the store at the time of sales & purchase invoice entry.
Empower ERP is the best online ERP software in india. You can manage account, inventory, sales, marketing, service and production in one software
You can create account of your sales team, purchase team, store keeper, production manager, marketing manager and you can give them limited required access as per their role
Yes in Empower ERP you can create category of your expense and manage your expense category wise.
Company ledger is a statement of account which shows all record of sales, purchase, debit note, credit note, payment & receipt
You can go to reports, then select the period and you can generate ledger quickly in pdf format.
It is necessary to manage your sales, purchase, sales outstanding, purchase outstanding, and many more to visualize material & cash inward & outward